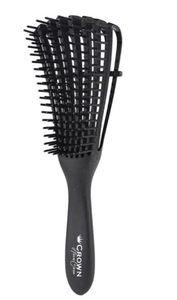 This detangling rush is great for all ages especially for the younger ones who have a problem with tender-headedness or hate to get through hair combed.
This brush minimizes the breakage that you have by each row lightly detangling your hair and separating when your hair gets too strained.  
Pair this with our ultimate detangling serum and or the leave-in conditioners that we offer, or our conditioners and treatments to have a easy detangling session on your wash day.