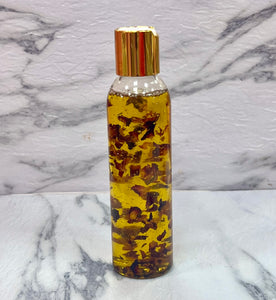 This oil can be used as a regular hair or scalp oil, body oil, as well as a hot oil treatment. The oils used to create this product are very small molecularly structured oils so they will be able to penetrate your hair, even if you have low porosity.  

All Crownhaircare products are created by a certified hairloss practitioner.

Hot oil benefits:
#1 – Nourish the follicles. Hot oil moisturizes the scalp, and increases the blood circulation. Blood flow improves nourishment from inside out, and the nutrients from the oils provide nourishment from the outside in.
#2 – Soothe scalp issues such as flakes, dandruff and eczema. Hot oil treatments before a shampoo help prevent dandruff and dry scalp. Apply the hot oil to the hair and massage it into the scalp with your fingertips as a pre-poo treatment. Apply a plastic cap for 30+ minutes, then rinse hair thoroughly.
#3 – Mends split ends. A hot oil treatment soaks into split ends and smooths them down. This isn't done in lieu of trimming your ends but it can help get your ends together until you're able to get a trim.
#4 – Prevents breakage. So many things we do in our hair care routines cause damage and breakage. Hot oil treatments along with deep conditioning help to strengthen hair and prevent damage from heat styling and coloring.
#5 – Adds shine to the hair. Hot oil treatments can help prevent frizzy hair without weighing down the hair. Reducing frizz also helps with the hair's ability to shine.
People with dryer scalps should do hot oil treatments more frequently to prevent over-drying and breakage. But be careful, because  doing treatments too frequently can over-saturate hair with oils and cause their hair to be limp and greasy.
Directions: Warm up solid oil in another container to liquid form and apply to scalp and hair; or apply to hair while solid and blow dry hair to heat up oil for 10min+. Use before shampooing hair or mix with deep conditioner.
Made with Caprylic triglycerides, avocado oil, olive oil, apricot oil, Rosehip oil, argan oil, jojoba oil, rosemary oil, Rose petals, natural preservative
Info from: https://blacknaps.org/benefits-hot-oil-treatments/